BRING IT ALL BACK TOUR
May 2014
THE CONFESSIONS OF DORIAN GRAY
Out now
BIRMINGHAM COMIC CON
November 22-23
COMIC CON: NOTTINGHAM
March 15, 2015
Tag Board
● Don't disrespect Hannah, Andrew or other fans
● Respect Hannah and Andrew's private lives
● Remember that Hannah occasionally visits the site
Messages that don't follow the rules are removed. Thanks for helping to make the site a pleasant place for all fans!
S Club 7's knowledge about themselves is put to test once again, this time by Heat. Who wins this time? Did YOU get all the answers right? Also, I love how some are cheating a little bit :D
S Club 7 teased fans about a possible new TV show, the title of which could be S Club in Bournemouth, according to Bradley :P I wouldn't mind London 7. Would you?
S Club 7 haven't ruled out the possiblity of starring in a new TV series like their 1999 hit Miami 7.

The pop group, who reunited after 12 years during the BBC Children In Need appeal show last week, says fans haven't stopped asking if they will make a return to TV.

Paul Cattermole, Hannah Spearritt, Tina Barrett, Bradley McIntosh, Jo O'Meara, Jon Lee and Rachel Stevens spoke about their reunion this afternoon on ITV's Loose Women.

S Club 7 rose to fame in BBC television series Miami 7 in 1999, which led the way for follow-up series' L.A. 7, Hollywood 7, Viva S Club and even musical-comedy film Seeing Double.

Asked today whether another TV series was a possibility, Tina said: "People keep asking us actually so I don't know… it could happen."

Bradley then joked: "S Club in Bournemouth… or Blackpool!"

We're sure fans of the band are desperate to see them back on our screens – but even if a TV show isn't in the pipeline, fans shouldn't get too worried as S Club 7 are going on tour!

Last week, the group announced a UK reunion tour for 2015, but will a tour also see new music from the pop favourites?

"We're not sure yet," said Rachel. "We're just concentrating on the tour and making that really amazing. We always loved touring, that was our favourite thing as a band."
Source: Reveal
BeSt album reached the Top 10 of iTunes UK last night. Well done guys! You can buy it here.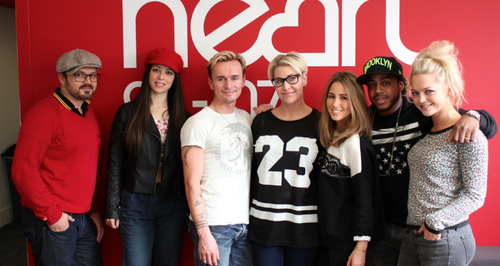 S Club were interviewed by Heart the other day, check the outcome below:
The famed noughties band insist they've had no trouble remembering the lyrics and polishing off their old dance routines in the lead up to their big comeback tour, which they exclusively revealed to Heart has "been on the cards for two years".

It may have been over a decade since the 'Reach For The Stars' hit makers dominated the charts but they're proving just as popular as ever after announcing they would be adding an extra date to the London leg of their nationwide comeback tour.

All original members Tina Barret, Paul Cattermole, Jon Lee, Bradley McIntosh, Jo O'Meara, Hannah Spearritt and Rachel Stevens will be reuniting on stage to perform their biggest hits for fans and they are "super excited" about it.

"I think we're just more excited than nervous," lead singer Jo'Meara told Heart showbiz reporter Kevin Hughes. "Because touring is what we all love to do so it's going to be absolutely unbelievable."

The mounting pressure of a comeback tour hasn't phased the group as Bradley claims they are more concerned with putting on a great show and "making the fans proud."
S Club 7 appeared on Loose Women today and the video has been added to ITV Player. Hopefully it'll soon be on YouTube too, stay tuned.
*EDIT* A YouTube video added!
WATCH ON ITV PLAYER
Since the London concert sold out within minutes, S Club 7 added an additional date for May 17th. Do you have your tickets already?
S Club 7 would love tour across the world. Here's what they said:
S Club 7 are eager to headline some shows outside of the UK for their international fans.

The pop group admitted they were left overwhelmed by the response to their reunion on Children In Need, and they had received messages from fans all over the world.

"We'd love to be able to take the tour global," Jo O'Meara told Digital Spy.

"I know in South America we've got loads of fans as well," Paul Cattermole added. "If they'll have us, we'll go!

"The fans have invested a hell of a lot of emotion, I think, in wanting it to come back in these places, so it would be great if we could go there."

S Club 7 sold over 10 million albums worldwide and their television series was broadcast in over 100 countries, peaking with a weekly audience of 90 million viewers.

The reformed group will play a string of headline dates in the UK next year, with tickets on sale from 9am tomorrow (November 20).
Source: Digital Spy
S Club 7 revealed they they had no pressure to match with the success of Spice Girls.
Back in the mid-'90s/early '00s, S Club 7 and Spice Girls were both incredibly huge acts. But the recently-reunited pop band states they never felt any pressure to live up to the legendary girl group's success. Band member Jo O'Meara told Digital Spy, "It was a completely different thing. They were all girls and we were mixed. It was a completely different vibe and different music."

Bradley McIntosh also jumped in, saying "I think, for me, I felt proud to be under the same wing as a band that successful. It felt amazing. I was saying to my mates: 'We're with the ex-Spice Girls manager mate, whey!'" Simon Fuller, the Spice Girl's former manager, is responsible for brainstorming the idea of S Club 7 in 1997 the day after he got fired from the girl group.

They may not have had the same worldwide, chart-topping success as the Spice Girls, but S Club 7 did pretty well for themselves (selling over 10 million albums worldwide, that is). After performing together for the first time in 12 years at BBC's Children In Need, the group announced a 2015 UK tour. It kicks off on May 7 in Birmingham and wraps up on May 21 in Sheffield.
Source: Idolator